Phaser Games Tutorials and Resources
Here you will find a lot of free and premium resources, templates, code snippets and tutorials for building Phaser Games.  What is Phaser? Phaser is an html5/Javascript library that can work equally well on both on mobile and computers. This library is growing strongly in popularity and in many cases, it serves as a replacement for Abobe Flash. Like flash, it uses masks, sprites, tweens, animations, and groups. I have no official association with Phaser but I work in it almost every day.  You can find the official website here. It has a lot of wonderful resources. If you are just getting started building Phaser games then Click Here to see my getting started guide!
My latest Phaser Tutorials
Latest Phaser Games
New To Phaser Game Development?
Take the Phaser Basics Mini-Course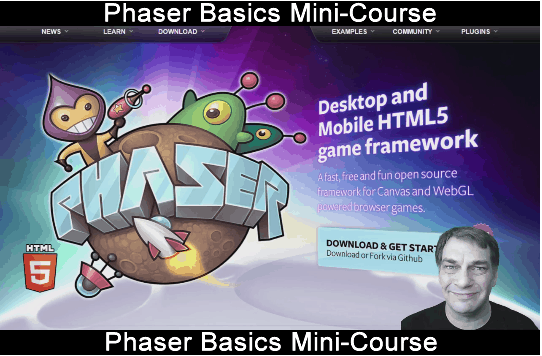 About Me
My name is William Clarkson. I've been writing code for about 30 years now and am currently employed as a game developer for Gaiaonline.com. I've been working with Phaser for a little over a year and am quite impressed with it. I am actively working to replace a lot of the flash work I did in the last 6 years with Html5 content and this is the library that is working well for me. Within two weeks of starting Phaser, I was creating games just as fast as I had done after 15 years of flash!
What would you like to learn about making Phaser Games?
If you have questions, a suggestion for what you'd like to see in a post or need support there are links to groups, or just feel free to contact me. I love talking about code especially when it comes to games. Also if you publish a game please let me know as well, so I can add a link to let other developers see it.
Check out the ever-growing list of examples of games built with Phaser.